Posted in Recipes at 7:40 pm
Just because Christmas is over, does not mean that Christmas baking is over. This weekend, we made Fudgy Cups (recipe courtesy of Penzeys.com). It was a new (to us) recipe, but one that will be added to our "keeper" file. If you are a fan of chocolate, you will love this cookie!
Pastry
3/4 cup all-purpose flour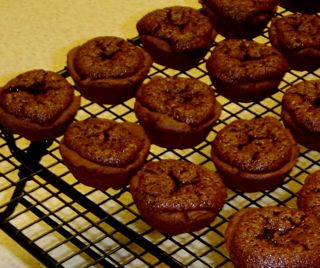 1/4 cup cocoa powder
1/3 cup butter, softened
3 ounces cream cheese, softened
1/3 cup sugar
Filling
1/4 cup butter, melted
1/2 cup sugar
1/3 cup cocoa powder
1 egg
1 tsp. vanilla extract
1 Tbsp. vanilla, orange, or almond extract
Sift together flour and cocoa. In a small bowl, beat butter, cream cheese, and sugar until fluffy. Add the flour mixture and beat until combined. Refrigerate 30 minutes. Preheat oven to 325° and spray a mini muffin pan with vegetable oil spray. Divide the dough into 24 balls and press onto bottom and sides of the muffin tin. Mix together the melted butter, sugar, cocoa, egg, vanilla, and additional flavoring. Mix until well blended. Spoon about 1 tsp. into each cup. Bake about 18 minutes until set.