Posted in Recipes at 9:00 am
Back to the kitchen for another new recipe. I have set a goal to try one new recipe a week for the year. Maybe then I can start getting through that backlog of magazine and internet clippings. Yesterday, we made Spiced Shortbread (another recipe from Penzeys.com – on the whole, we have been very pleased with every recipe we have tried off their website or catalog – yes, I do have a lot of Penzeys spices in my kitchen). These were yummy. Might make some more this weekend. Bonus – this is an easy recipe that is made from staples. Love it!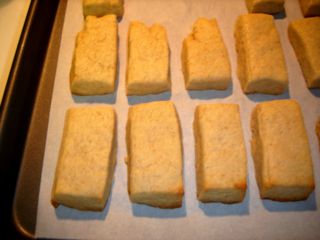 Spiced Shortbread
1 cup butter, room temperature
1/2 cup white sugar
2 1/2 cups all-purpose flour
1 tsp. ground cardamom
2 tsp. vanilla extract
1/4 tsp. almond extract
3 Tbsp. milk
Preheat oven to 350°. Beat butter and sugar together until fluffy. Add flour, cardamom, vanilla, and almond. Mix well. Add milk. Mix. Roll out the dough to 1/2 inch thickness. Cut into bars. Place on greased cookie sheet. Bake 30 minutes (until edges are golden and middle is firm).