Posted in Recipes at 8:55 pm
Winters in Southern California are very mild and very short. This weekend, it was relatively cool outside so I made soup for dinner. This recipe for baked potato soup was posted on a wonderful blog, Get Rich Slowly. It was easy to make, and tasted absolutely delicious. Thumbs up all around the table for this one. We garnished with cheddar cheese and red and black pepper.
Hearty Baked Potato Soup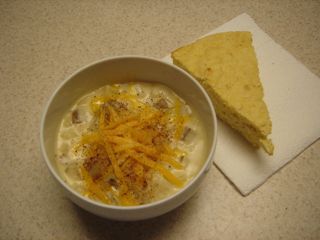 3 large russet potatoes, cleaned and poked
1/4 cup butter or margarine
1 small yellow onion, chopped
2 cloves garlic, minced
1/4 cup flour
2 cups chicken broth (or 14 oz can)
12 oz evaporated milk
2 tsp seasoned salt
toppings: cheese, diced ham, crumbled bacon, chives, Tabasco, croutons…
Microwave the potatoes 8-9 minutes until baked through. Set aside to cool slightly. Melt the butter in a soup pot over medium-high heat and add onion. Cook 6-7 minutes until softened. Add minced garlic and cook 30 seconds, until fragrant. Add flour and stir several minutes to make a thickened roux. Gradually stir in evaporated milk and broth. Scoop the pulp from one potato, mash it slightly and add to soup. Cook soup on medium to bring to a boil. Add seasoning salt (to taste). Dice the remaining two potatoes and empty skin of the third potato. Add to soup and heat through. Serve alone or topped with anything that sounds good to you.