I made muffins for the kids last week. I had some canned pumpkin left from the holiday stockpile, so came up with this. It's a basic muffin recipe with pumpkin added, topped with cinnamon sugar. They were a hit!
Pumpkin Muffins
1 cup sugar
1/2 cup butter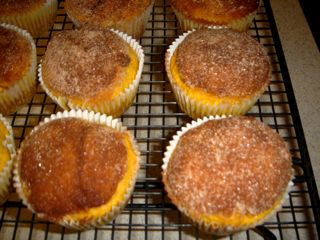 2 eggs
16 oz. pumpkin
1/4 cup milk
3 cups all-purpose flour
1 Tbsp baking powder
1 tsp baking soda
1 tsp salt
1/2 tsp cinnamon
1/2 tsp nutmeg
Heat the oven to 350°. Beat the sugar and butter. Add eggs one at a time. Beat in the pumpkin and milk. Add dry ingredients. Grease and flour 24 muffin cups. Fill 2/3 full. Bake 25 minutes, or until toothpick inserted in center of a muffin comes out clean. Cool until they are cool enough to handle. Then brush tops with melted butter and dip in a mixture of 1/2 cup sugar and 2 tsp cinnamon.