Happy St. Patrick's Day, everyone! Hope you're all wearin' a bit o' the green today.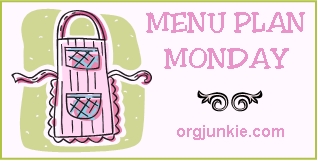 Over at I'm an Organizing Junkie, Laura hosts a weekly Menu Plan Monday. Have a look for some wonderful menu ideas! For this week, we are going easy so mama can recover from the weekend of parties (and use up leftovers). Breakfasts will be smoothies and muffins, cereal, eggs, or pancakes. Lunches will be leftover sandwich and fruit platters from the parties. Dinners will be:
*Monday: split pea soup (it's green for St. Paddy's Day!) and soda bread
*Tuesday: same
*Wednesday: spaghetti and salad
*Thursday: breakfast casserole (ham, potato, egg), fruit
*Friday: same
As far as the agenda for the week, the focus will be on resetting from last week and prepping for Easter. I don't know about the rest of you, but Easter kinda caught me by surprise this year. I don't like it when it falls so early. I usually have a couple/few weeks after K's birthday to switch gears. Yesterday was Palm Sunday! I'm already behind on devotional reading for Holy Week. Oh well, I'll get caught up. So, the priorities are:
*clean from the parties
*put out Easter stuff
*prep for Easter (I'm making homemade treats for the baskets this year)
*help in the kids' rooms (as usual)
Have a wonderful week, everyone!