One of the blogs I subscribe to is I'm an Organizing Junkie. On her site, she does a post called Menu Plan Monday. Here is my first contribution! I started posting my weekly menu last Monday, but I wasn't participating in her link. I've been reading her menu links for some time now. It really helps to see everyone's menus – lots of ideas! Love it! Check it out here!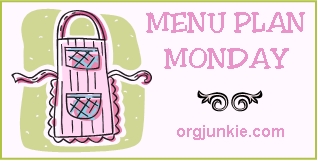 Well, the menus for last week and this week have been affected by the refrigerator incident of 2008. We did not have the split pea soup last week (K was very upset – it's one of her favorite meals). This week, are eating a lot of defrosted food. How would you like your chicken? We had the whole chicken roasted on Thursday. I will use the chicken breasts for Monday and Tuesday and I'll do the thighs up in a teriyaki sauce for hubby's lunches (I fix his lunches in a laptop lunch box, the kids' too – LOVE them!). There are also 12 cups of homemade pasta sauce that we are using up this weekend and at this end of the week.
*Monday – chicken cheese rice casserole, steamed veggies
*Tuesday – same
*Wednesday – K's choice for her birthday (probably out somewhere)
*Thursday – spaghetti with defrosted sauce, salad
*Friday – pizza (K's birthday slumber party), cake, ice cream, popcorn…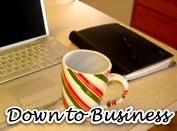 Now, as far as the work planned for this week, the emphasis will be on getting ready for K's parties this weekend (she has a slumber party with her friends Friday and the "family party" Saturday). I will help out in the kids' classes and clean the house. I got all of last week's items finished. For this week:
*help in kids' classes
*get balloons and party favors for the party
*clean the house
*library run
*wrap K's present!